Day-to-Day Data is a national touring exhibition, publication and web-based exhibition curated by artist
Ellie Harrison
. It features newly commissioned work by:
Abigail Reynolds
,
Adele Prince
,
Anders Bojen & Kristoffer Ørum
,
Christian Nold
,
Cleo Broda
,
Ellie Harrison
,
Gabrielle Sharp
,
Hannah Brown
,
Helen Frosi
,
Hywel Davies
,
James Coupe, Hedley Roberts & Rob Saunders
,
Jem Finer
,
Kevin Carter
,
Lucy Kimbell
,
Mary Yacoob
,
Richard Dedomenici
,
Sam Curtis
,
Therese Stowell
,
Tim Taylor
and
Tony Kemplen
.
The gallery exhibition continues until Wednesday 7 September 2005 at Angel Row Gallery, Nottingham before opening at Aspex Gallery, Portsmouth on Friday 16 September 2005. For the full tour dates and opening times please see:
www.daytodaydata.com/galleryexhibition.html

Studio Voltaire presents Infrastructure, an exhibition that explores the visible and invisible systems we live within. Ranging from belief systems to the built environment and the internet these structures intersect, forming an ubiquitous, largely invisible network that shapes who we are and what we can do.
The exhibition brings together artists from London, Edinburgh, New York, Seattle, Amsterdam, and Bulgaria. The artists are: Richard Galpin, Charlotte Ginsborg, Anthony Gross, Victoria Haven, Kirsten Lyle, Chad McCail, Svetlana Mircheva, Ian Monroe, Angelina Nasso, Luke Oxley, Kiki Seror, Robert Yoder.
Infrastructure also forms an extension of the curator, Therese Stowell's, individual practice as an artist. Stowell's own practice involves constructing systems of meaning, frequently in the form of arrowed diagrams which connect words or sentences to create networks of explanation. These works present seemingly authoritative and rationalised realities, often employing the use of information presentation tools of science and business to affirm their status as believable truth. This seduction is, however, ultimately undermined by the knowledge that the works are created from an individual subjective viewpoint.
For her contribution to Infrastructure Stowell will create an overall diagram that maps and connects the systems present in the featured artists' work, while also placing them in wider socio- cultural and every day contexts. Reproduced as a poster and invitation for the exhibition, the diagram will attempt to represent the vast network of facilities and processes that enable us to live the way we do. In its own idiosyncratic mediation of the exhibition Stowell's contribution will also both enact and make visible her complicit role as curator.
| | | |
| --- | --- | --- |
| DATES: | ADDRESS: | |
| 13 May – 19 June 2005 | Studio Voltaire | |
| Preview Thursday 12 May 6 – 10 pm | 1a Nelson's Row | |
| Open: Thurs – Sun 1 – 6 pm | Clapham | |
| | London SW4 7JR | |
| | |
| --- | --- |
| <![if !vml]><![endif]> | Supported by the Embassy of the United States of America, London |
FLORENCE ANNOUNCE DIESEL COMMISSION
Art Company Florence Announce Major Commission for Artist Therese Stowell
Florence - the young, fresh new art company - is proud to announce that one of their main artists Therese Stowell, will undertake a major commission for Diesel Denim Gallery at London's Fashion Week.
Diesel Denim Gallery is a new brand from the popular fashion label, and will be found within in the UK exclusively at Harvey Nichols and Selfridges. Diesel chose Therese Stowell from a selection of talented young artists, believing that the politically and socially aware thought processes represented in her work through a unique blend of graphics, photography and text, best represent Diesel Denim Gallery's ethos and one-off style.
Diesel has commissioned ten new works from Stowell, which will be presented on 8 ft. lightboxes. The works center on themes of consumption, from capitalism to fashion to identity. As Stowell says, "I am very excited to situate work on these themes in the midst of an event which embodies the themes. This kind of self-referentiality and humour is sympathetic with Diesel's philosophy."
Each lightbox will contain a pair of limited edition Diesel Denim Jeans with hand stitched detailing. The lightboxes will form a corridor of futuristic blue light at the exhibition, to be held at The Henry Moore Gallery in the Royal College of Art. Stowell's existing oeuvre will be displayed on the walls of the gallery.
There is only one exclusive opportunity to see these provocative works, at the opening party on 23rd September. With limited, invite only places available it is already one of the most eagerly anticipated events of London Fashion Week, sure to attract some of the biggest names from the art and fashion world, including a rare appearance by the founder and owner of Diesel himself, Renzo Rosso.
"My work involves constructing systems of meaning through the presentation of text, often using the information presentation tools of science and business," comments artist, Therese Stowell." These systems frequently take the form of arrowed diagrams which connect words or sentences to create networks of explanation." As Tank magazine designated her, Stowell is a cultural cartographer of our times.
'We are really excited for Therese to be chosen to work with Diesel on this project. We love seeing our artist's elevated to new levels, and as this will be Diesel's biggest and most exclusive event this year. I don't think we could have lifted her any higher! Therese's work is perfect for a forward thinking brand like Diesel, her art looks at the world open mindedly with a totally tongue-in-cheek attitude, which fit's perfectly with their ethos' Carrie Neely, co-director and co-founder of Florence Fine Art.
THERESE STOWELL FOR DIESEL DENIM GALLERY

DATE:

Thursday 23rd September

Exclusive, Invite only party

VENUE:

FOR FURTHER INFO ON THERESE STOWELL CONTACT:

Henry Moore Gallery, Royal College Art

Florence Fine Art: 020 7307 3145

Jennifer McCormick - jennifer@florencefineart.com

Carrie Neely – carrie@florencefineart.com

www.florencefineart.com

Artiade: Olympics of Visual Arts 2004 - Athens
Following the successful ARTIADE exhibition held in Atlanta in 1996 on the occasion of the hundredth anniversary Olympic Games, the "ARTIADE - Olympics of Visual Art" are now being held in Athens from 12 August to 29 September 2004. These are taking place in parallel to the Olympic Games being held in that city at the same time.
Six hundred artists from countries taking part in the Olympic Games will have their works exhibited. The ARTIADE will document a harmonious meeting of nations, using art as its means of communication.
There is an ever-increasing need to take a 'step back' in order to find a cultural counterbalance and a sense of transparency, in the face of the increasing commercialisation of the Olympic Games. This exhibition offers the ideal medium for documenting the 'feel' of any country - current events, emotions, and traditions. In short, it is a forum for world culture.
In other words, every Olympic nation will send not only its athletes, but also its artists, who will reflect the cultural identity of their countries of origin:
"…It is the artists' works that tell us about life in the countries from which they come..."
Gerhard Mack, ('art' Magazine, Germany)
In this way the ARTIADE will emphasise the positive, unifying nature of the sport Olympics. Through this exhibition the original meaning of the Olympic ideal will be revealed in the present time. Athletes and artists represent two sides of a common culture. The exhibiting artists will be able to express their opinions and emotions without restraint.
The exhibition is being organised by the "Kulturstiftung ARTIADE e.V." (Cultural Foundation ARTIADE), registered as a cultural organisation in the Federal Republic of Germany. It is supported by a number of prominent figures, most particularly by the German Federal President, Johannes Rau.
ARTIADE opening ceremony 12.08.2004
Exhibition period 12.08.2004 - 29.09.2004
Closing ceremony 30.09.2004
temporarycontemporary
Press Release
FleaMarket
Exhibition and Artist Garage Sale
FleaMarket: May Day Bank
Holiday Weekend
With the active participation of over 50 artists, events, bands & DIY catering
Saturday 1st May,
Sunday 2nd May 2004, 12-6pm
Exhibition: continues for 1 week
Tuesday 4th – Sunday 9th May 2004, open daily 12-6pm
admission free
We are pleased to present 'FleaMarket' a large exhibition and artist garage sale hosted in the 4000 sq ft covered temporarycontemporary space at The Old Seager Distillery, Deptford, London.
The social-selling-swap-meet event will last for one weekend, with artists activities including exhibiting on rugs and blankets, making, exchanging, rehearsing, recording, demonstrating, curating and cooking. After the weekend, FleaMarket will transform into an exhibition open for one week – a large survey show documenting current modes of artistic production open daily until Sunday 9th May.
FleaMarket is a unique opportunity to sift and rummage through a treasure trove of group displays, artist's wares, collections, cast-offs and garage junk. Showcasing works from over 50 prominent and emerging artists and galleries, FleaMarket offers a chance to see and buy rare and affordable artworks as well as engage personally with artists, curators and their participatory projects.
temporarycontemporary
2nd Floor, Atlantic House
The Old Seager Distillery
Deptford Bridge
London SE8 4JT
Right next to Deptford Bridge DLR
Entrance on Brookmill Road / Deptford Bridge.
info@tempcontemp.co.uk for further information or call 07971 292 817
Curated by Anthony Gross
"…one formal system has been substituted for another: since the early nineties, the dominant visual model is closer to the open-air market, the bazaar, the souk, a temporary and nomadic gathering of precarious materials and products of various provenances. Recycling (a method) and chaotic arrangement (an aesthetic) have supplanted shopping, store windows, and shelving in the role of formal matrices." Nicolas Bourriaud, 'Postproduction'
CAPPS' Mariboe Gallery Presents
'Contemporary Directions in New Media'
Hightstown, New Jersey, March 8, 2004
(below: Therese Stowell, About Belief, Inkjet on Paper, 24" x 18", 2002)
<![if !supportLineBreakNewLine]>
<![endif]>
<![if !vml]>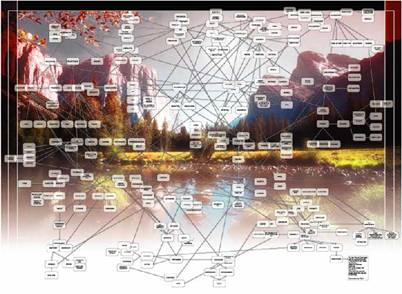 <![endif]>
The Community Arts Partnership at the Peddie School (CAPPS) closes its 2003-2004 Mariboe Gallery Season with a theme show entitled, 'Contemporary Directions in New Media.' The exhibit will highlight the work of three artists: Heather Freeman, Eric Hadley and Therese Stowell. The exhibit will open with a reception and talk by the artists on Friday, April 2, 2004 from 6:30 – 9 p.m., and the will run through April 18. The Gallery is located in the Swig Arts Center at the Peddie School. Gallery hours are 9-3 daily, Monday through Friday.
These three up and coming artists working in new media will participate in a group show and visiting artists lecture at the Mariboe Gallery. Heather Freeman explores idiosyncratic and surreal connections between art, science, pop culture and her own autobiographical experiences through digital imagery and video. Eric Hadley is an animator, musician, educator, technician, DJ, and designer. He employs a vast array of digital media to produce vibrant sensory experiences at the cutting edge of underground culture. Therese Stowell is an American artist currently working in London. She produces digital images that use the visual language of scientific and corporate diagrams to explore personal and subjective content concerning omnipresent but elusive issues such as anxiety, sex, and war. These diagrammatic systems are contrasted with lush emotional and aesthetic imagery. All three artists have shown extensively and have been written about in a variety of publications.
THIS IS FOR REAL: War and the contemporary audience
For Immediate Release: March 9, 2004

THIS IS FOR REAL: War and the contemporary audience
Curated by Keith Miller + Alex Couri

URL: http://www.keith-miller.com/war/

March 9 - April 2, 2004

SAC Gallery, SUNY Stony Brook
Opening reception: 5-6pm Thursday March 11, 2004
Panel + round table: 4pm, with special guest Nick Mirzoeff, Associate Professor, Art History at SUNY Stony Brook

"While the representation of war may seem inevitable, its truths so well constructed as to be undeniable, it is the glory of this production that entices us. We are drawn to it, if indeed we are, because it gives us the opportunity to participate." [curators' notes]

Participating Artists:
Karina Aguilera-Skvirsky
Stephanie Andrews
Bernard J. Canniffe
Matthew Fisher
Rainer Ganahl
Joy Garnett
Ilona Granet
Marc Lepson
Max Liboiron
David Luke
Pamela Matsuda-Dunn
Robin Michaels
Lina Pallotta
Michael A. Rippens
Dread Scott
Natacha Seideneck
Therese Stowell

artists' works and texts:
http://www.keith-miller.com/war/

[from curators' notes]:
"While images of war have been present from the beginnings of the history of art, the introduction of immediate media-- camera, television and the internet--have transformed [war's] representation and its reception. Matthew Brady's photos, so influential re: the psyche of the American people during the civil war, offered concrete proof that atrocities were occurring, even if, as is now know, those photos were often staged. The dubious origin of what we see does not [necessarily] call into question its veracity. It is this that is so troubling."

For more information contact:
Keith MILLER <keith2miller@yahoo.com>
Alex Couri <lacouri@earthlink.net>

SUNY Stony Brook
http://www.art.sunysb.edu/index.html
Department of Art
Staller Center
State University of New York at Stony Brook
Stony Brook, New York 11794-5400
Last Days of the Empire

'My fellow Americans, hear this. The empire crumbles. The backlash against our financial and cultural expansion swells. The military is overextended, the economy is faltering. Corporations and a powerful elite run the government, taking action we would never conscience and provoking widespread enmity. Over-consumption and carelessness destroy our environment. Science is running amok in the name of progress. The widening gap between rich and poor brews resentment, which bubbles over in acts of desperation. Something has to give, and will'.
Therese Stowell marries the bombast of the Baptist preacher and George Lucas with the rationality of science and business to create works advertising promise and doom. Working within the language of business and technology, she creates slick, seductive manufactured objects that both critique and embody the American dream.

Stowell's idiosyncratic work resists literal interpretation. In fact, it should be viewed as an unsolvable puzzle or even a riddle without a discernable answer. It is the constructed systems of meaning through textual exploration and the presentation of the information using the tools of science and business that makes Therese's work so intriguing and multi-faceted. These systems frequently take the form of arrowed diagrams, which connect words or sentences to create networks of explanation.

Whilst appearing complete and authoritative, each work ultimately proves inclusive and therefore, ultimately enigmatic. It is part of the human condition to rationalise our personal and social existence and yet, fundamentally we understand the futility of this endeavour. Stowell's work exists between the uneasy realm of post-modern scepticism and a meta-narrative yearning for truth and belief.
10th October – 1st November 2003 at Catto Contemporary
Private View: 6-9pm 9th October
75a
Leonard Street
London
EC2A 4QS
Tel: +44 (0)20 7729 0555
Fax: +44 (0)20 7613 0201
PRESS RELEASE I N F O M A T I C
a priori
61-63 Cudworth St
London E1 5QU
www.apriori.tv
Underground: Bethnal Green
Friday 6 June – Sunday 29 June 2003

a priori presents INFOMATIC, an exhibition that explores the presentation of information and its impact on society and the individual. The show features the work of Abigail Reynolds, which begins with information and allows it to self-generate a form, and the work of Therese Stowell, which uses the information tools of science and business to map the social and the personal.

Information is the oxygen of the modern age. It seeps through the walls topped by barbed wire, it wafts across the electrified borders.
- Ronald Reagan
Parallel to the physical world exists an information ether. It is made tangible through statistics, the Internet, advertisements, news reporting... These conscious acts of framing shape our world view – this information becomes our internal landscape. Despite our awareness of the partial view, we place our faith in the information; it becomes our truth and a source of comfort.

Marrying quasi or pseudo scientific principles and methods with a radically unscientific content or form, Reynolds and Stowell create hybrid forms to probe a disjointed reality.